Ferrari monza sp1
Presented at the Paris Motor Show, the limited edition Ferrari Monza SP1 is very clearly inspired by the speedsters of the 1950s.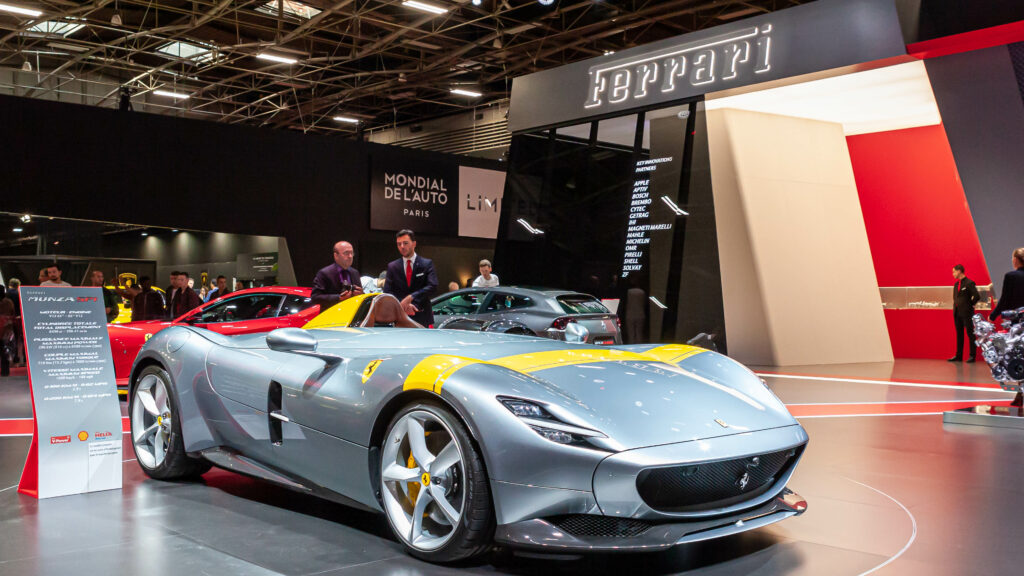 Ferrari announces the best weight/power ratio of the "Barchetta", with the massive use of carbon fiber, but also with the most powerful engine of Maranello , the 6.5 L V12 developing 810 horsepower and 719 Nm of torque.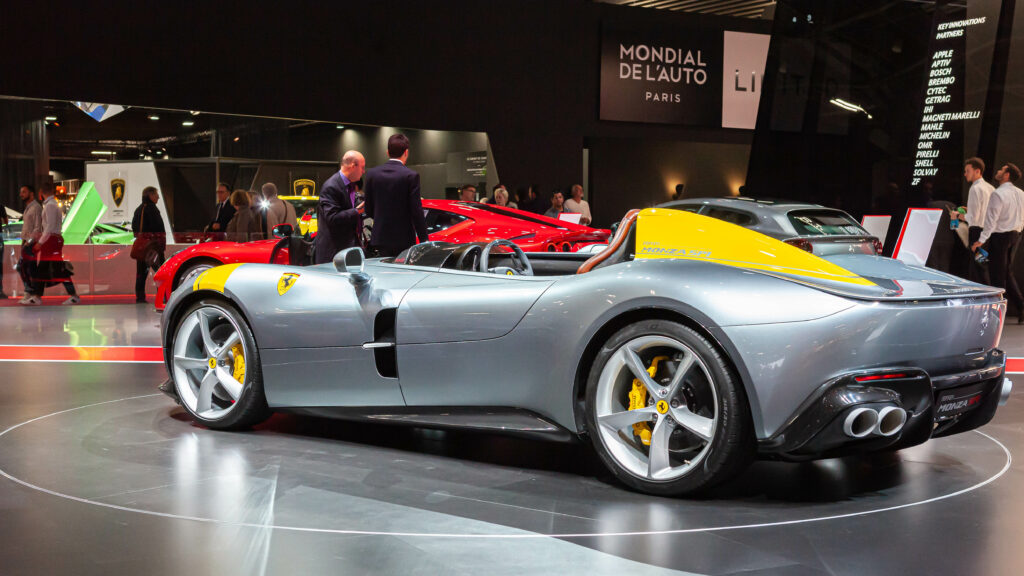 The Ferrari Monza SP1 announces these performances: the 0 to 100 km/h in 2.9 seconds, the 200 km/h are reached in 7.9 seconds and a top speed which exceeds 300 km/h… and all that without windshield.
Ferrari reserves its monza SP1 models for its loyal customers and collectors of the brand at a starting price of €1.5 million.
Ferrari Monza SP1 technical sheet
Moteur
| | |
| --- | --- |
| Type | V12 à 65° |
| Disposition | Front longitudinal |
| valves | 48 valves |
| Cylinder capacity | 6496 cm³ |
| bore x stroke | 94 x 78 mm |
| Compression | 13.6:1 |
| Feed | direct injection |
| Power | 810 ch à 8500 tr/min |
| Couple | 719 Nm à 7000 tr/min |
| Maximum RPM | 8900 tr/min |
Transmission
| | |
| --- | --- |
| Type | Propulsion |
| Gearbox | Sequential 7 gears |
Chassis and wheels
| | |
| --- | --- |
| Front brakes | Ventilated carbon ceramic discs (398mm) |
| Rear brakes | Ventilated carbon ceramic discs (360mm) |
| Front tires | 275/30 ZR20 |
| Rear tires | 315/30 ZR21 |
Dimensions
| | |
| --- | --- |
| Length | 4657 mm |
| Width | 1996 mm |
| Height | 1155 mm |
| Wheelbase | 2720 mm |
| Front track | 1688 mm |
| Rear track | 1678 mm |
| Weight | 1500 kg |
| Réservoir | 90 litres |
Performances
| | |
| --- | --- |
| Maximum speed | 300 km/h |
| 0-100 km/h | 2.9 secondes |
| 0-200 km/h | 7.9 secondes |
| Weight/power ratio | 1,852 kg/ch |
| Power/litre ratio | 124,692 ch/litre |
#Concept Car   #Gt   #Super Cars   #Voiture de collection