The Lamborghini Gallardo
The Lamborghini Gallardo was presented at the Geneva Motor Show in 2003 with a central rear 5 L V10 engine with 40 valves from 500 hp to 570 hp depending on the model, all on a 6-speed manual or robotized sequential all-wheel drive.
the different models of the Gallardo
the Gallardo Spyder has a convertible roof in just 20 seconds and a power of 520 hp for an advertised speed of 315 km/h with the roof closed. A torque distribution of 70% at the rear and 30% at the front gives it a propulsion character, and its rear wing deploys from 120 km/h to improve support at high speed.
the Gallardo SE The engine has been increased to 522 hp for 316 km/h, 0 to 100 km/h in 3.95 seconds, corrections to many weak points, improved gearbox ratio, more precise steering.
SE for Special edition, it was produced in only 250 copies.
the Gallardo Nera sold only in 185 copies. The engine power remains at 520 hp for a torque of 520 Nm, ie 10 Nm more.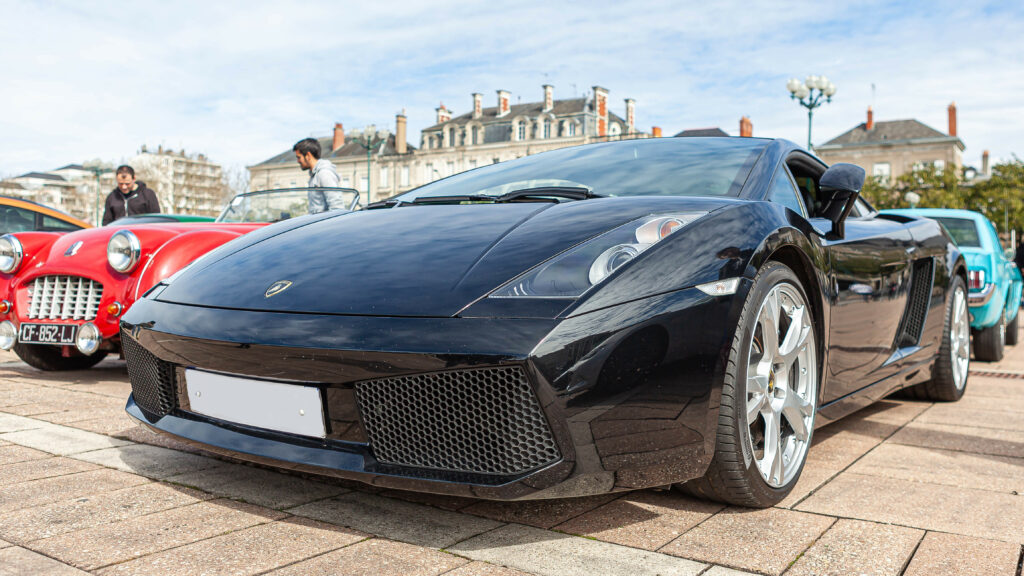 the Gallardo superleggera produced in 350 copies. The use of carbon for certain parts such as the engine cover, door panels, seat shell, rear diffuser, mirror, central tunnel, underbody, and the use of polycarbonate for certain windows allow it to gain 100 kg on the scale and with a modified mapping to make it gain 10 hp on the original 520 hp of the 5 L V10.
the Gallardo LP560-4 The main modification of this Gallardo lies in its engine with an aluminum engine without a mobile sleeve and pushed here to 5.2 L instead of 5 L for a power of 560 hp and an advertised speed of 325 km/ h and a 0 to 100 km/h in 3.7 seconds.
The 6-speed gearbox has been improved to increase gear change times by 40%, a modification of the shock absorber spring rates.
the Gallardo LP550-2 Valentino Balboni is a special edition created in honor of Lamborghini's official test driver for over forty years, Valentino Balboni.
Its engine is 550 hp in two rear wheel drive for an advertised speed of 320 km/h. The LP550-2 is produced in a limited series of 250 units.
It is easily recognizable with its two colored bands painted along the length of the car: the main band is white and the other gray or black.
the Gallardo LP570-4 Superleggera is an improvement on the LP 560-4. It gains ten horsepower and loses 70 kg for an advertised speed of 325 km/h and a 0 to 100 km/h in 3.4 seconds thanks to the extensive use of carbon fiber in various parts that make up this Gallardo.
the Gallardo Spyder LP 570-4 Performante is the spyder of the LP570-4 Superleggera with its convertible top in just 22 seconds.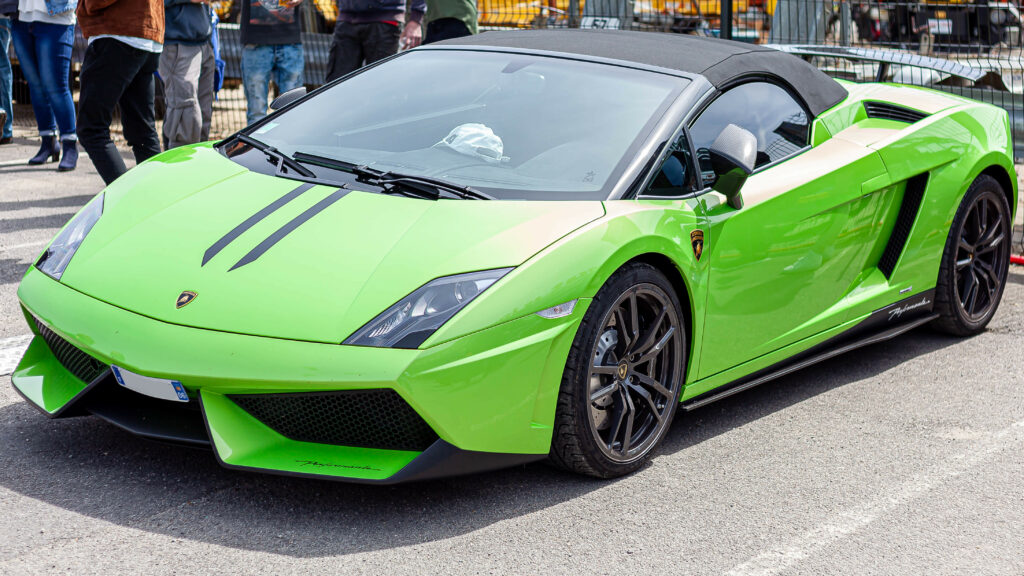 the Gallardo LP 570-4 Squadra Corse An evocative name and based on the Super Trofeo, very close to a racing car. With its rear wing, a new diffuser, the new removable engine cover with quick-release system, this series is limited to only 50 copies.
The engine remains at 570 hp for a 0 to 100 km/h in 3.4 seconds and an advertised speed of 320 km/h.
the Gallardo LP 570-4 Super Trofeo Stradale produced in only 150 copies. It differs from the Super Trofeo with its weight reduced by 70 kg for 570 hp, ultra-light 19-inch rims which make it lose 13 kg. This Gallardo Super Trofeo Stradale is also close to a real racing car.
Designed to take full advantage of its dynamic potential, this Gallardo is fitted with higher power brakes with carbon-ceramic discs and 8-piston calipers at the front and 4 at the rear.
the Gallardo LP 560-4 2013 This version is in fact a restyled version to rejuvenate the Lamborghini Gallardo before its replacement by the Lamborghini Huracàn LP610-4 .
Technical specifications of the Lamborghini Gallardo
Engine
| | |
| --- | --- |
| Type | V10 à 90° |
| Disposal | Center rear longitudinal |
| Valves | 40 valves |
| Cylinder capacity | 4961 cm³ |
| bore x stroke | 82.5 x 92.8 mm |
| Compression | 11.0:1 |
| Distribution | 2 double overhead camshafts |
| Feed | Electronic fuel injection |
| Power | 500 ch à 7800 tr/min |
| Couple | 510 Nm à 4500 tr/min |
| Maximum RPM | 8100 tr/min |
Transmission
| | |
| --- | --- |
| Type | Integral |
| Gearbox | 6-speed manual / 6-speed sequential |
Chassis and wheels
| | |
| --- | --- |
| Direction | Assisted rack |
| Turning diameter | 11.5 m |
| Front suspension | Double wishbones and coil springs |
| Rear suspension | Double wishbones and coil springs |
| Front brakes | Ventilated discs (365 mm), 8-piston calipers |
| Rear brakes | Ventilated discs (335 mm), 4-piston calipers |
| Front tires | 235/35 ZR19 |
| Rear tires | 295/30 ZR19 |

Dimensions
| | |
| --- | --- |
| Length | 4300 mm |
| Width | 1900 mm |
| Height | 1165 mm |
| Wheelbase | 2560 mm |
| Chest | 110 litres |
| Front track | 1622 mm |
| Rear track | 1592 mm |
| Weight | 1430 kg |
| Réservoir | 90 litres |
| Cx | 0.35 |
| SCx | 0.67 m² |
Performance
| | |
| --- | --- |
| Maximum speed | 309 km/h |
| 0-100 km/h | 4.2 seconds |
| 0-160 km/h | 8.9 seconds |
| 0-200 km/h | 14.5 seconds |
| 400 meters Standing Start | 12.2 seconds |
| 1000 meters Standing Start | 22.5 seconds |
| Power to weight ratio | 2,86 kg/ch |
| Power/litre ratio | 100,786 ch/liters |
| Extra-urban consumption | 13.9 liters per 100 |
| Urban consumption | 29 liters per 100 |
| Mixed consumption | 19.5 liters per 100 |
| CO2 emissions | 400 g/km |
#Concept Car   #Gt   #Super Cars   #Voiture de collection