The Ferrari 488
The reworked design of the Ferrari 488 GTB, marketed in 2015 and intended to replace the 458 Italia also equipped with a V8 engine, suggests bases taken from the 458, but with a much more aggressive front, open and hollow fenders to air intake to the engine, a design that reduces drag and improves downforce by 50% compared to the 458 with reworked aerodynamics.
The same engine as the 458 Italia, but supercharged with two turbochargers which boost power to 670 hp for an advertised speed of 330 km/h for a 0 to 100 km/h in 3.1 seconds, with a robotic sequential gearbox 7-speed dual-clutch.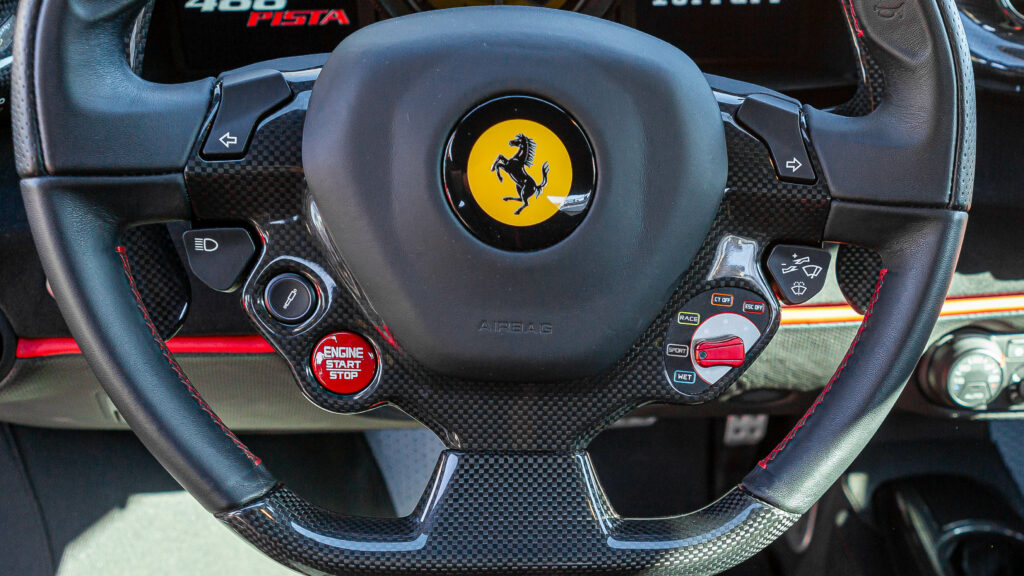 The Ferrari 488 Pista special series, more radical than the Ferrari 488 GTB, loses 90 kg and its power rises to 720 hp for an advertised speed of 340 km/h and a 0 to 100 km/h in 2.85 seconds.
The aesthetics of the bodywork of the 488 Pista has been revised to improve downforce by 20% compared to the 488 GTB.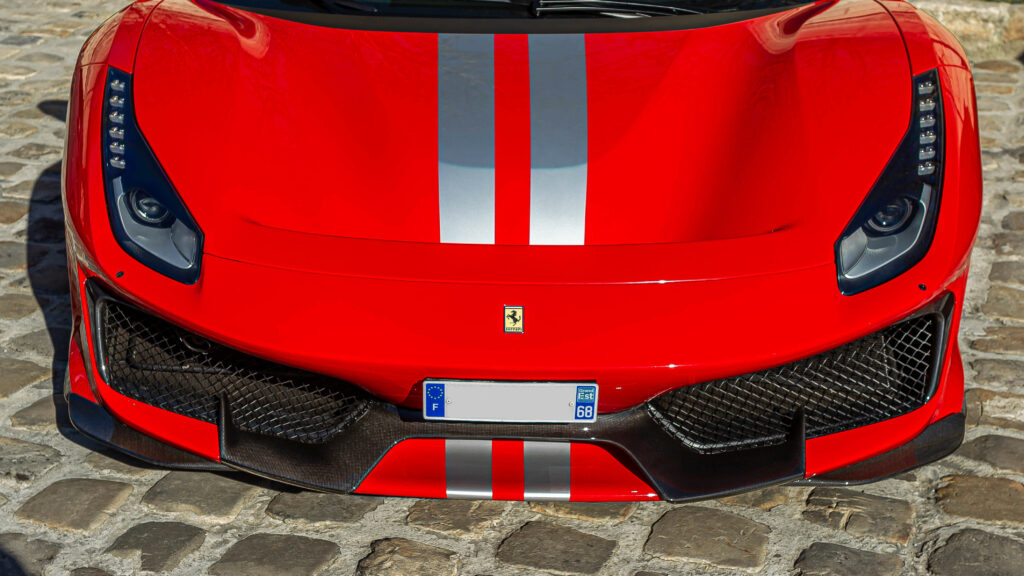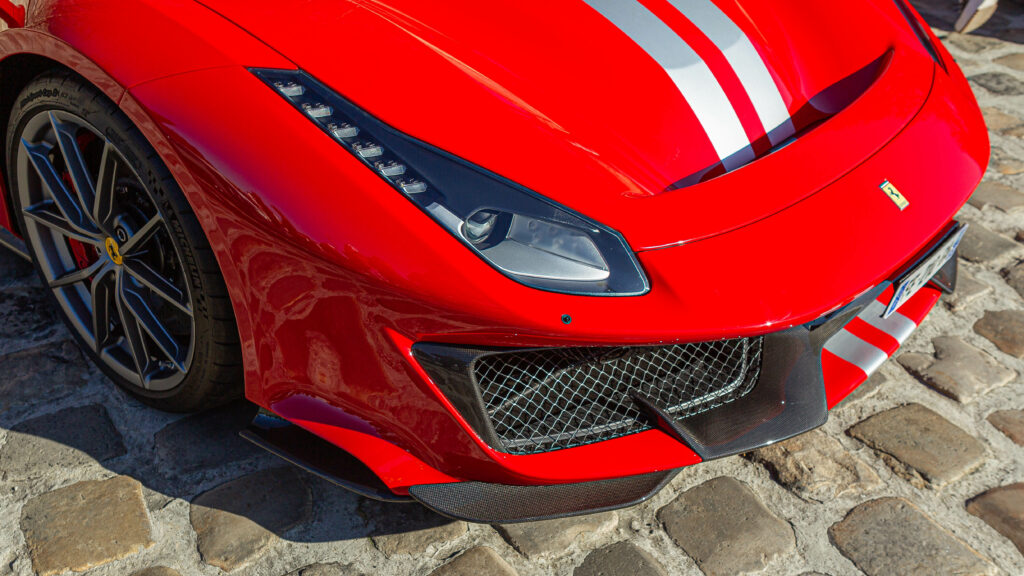 Ferrari 488 Pista Piloti Ferrari is a special edition reserved for the brand's customer-drivers, presented in June 2018 at the 24 Hours of Le Mans. This special edition is homologated for the road and is produced in only 500 copies and each copy has an identification plate in the passenger compartment. For the engine and performance, nothing changes.
Ferrari 488 Pista Spider is the convertible version of the 488 Pista and is fitted with 20-inch carbon rims to save weight following the 100 kg more chassis which had to undergo reinforcement to make it as rigid as the 488 Pista and the engine loses 18 kg with the use of new materials.
The opening of the hard top takes place in 14 seconds and up to 40 km/h.
Ferrari 488 Spider is a discovery version of the 488 GTB, it has a removable hardtop saving 25 kg compared to a canvas roof and folds up in 14 s.
In terms of performance, the 488 Spider announces a speed of 330 km/h and achieves 0 to 100 km/h in 3.2 s.
Ferrari 488 Challenge is available in a racing version exclusively intended for use on the circuit.
Ferrari 488 GTE and GT3 is a competition automobile developed by GT Competizione and Ferrari. It is homologated in the LM GTE category and entered by the Italian team AF Corse in the world endurance championship.
488 GT3 is a competition car designed to race in the GT3 class.
Technical sheet of the Ferrari 488 GTB
Engine
| | |
| --- | --- |
| Type | V8 à 90° |
| Disposal | Center rear longitudinal |
| Valves | 32 valves |
| Cylinder capacity | 3902 cm³ |
| bore x stroke | 86.5 x 83 mm |
| Compression | 9.4:1 |
| Distribution | 2 double overhead camshafts |
| Feed | direct injection |
| Supercharging | Bi-turbo |
| Power | 670 ch à 8000 tr/min |
| Couple | 761 Nm à 3000 tr/min |
| Maximum RPM | 8000 tr/min |
Transmission
| | |
| --- | --- |
| Type | Propulsion |
| Gearbox | 7-speed DCT |
Chassis and wheels
| | |
| --- | --- |
| Direction | Assisted rack |
| Front suspension | Independent, double wishbone |
| Rear suspension | Independent, multi-link |
| Front brakes | Ventilated carbon ceramic discs (398mm) |
| Rear brakes | Ventilated carbon ceramic discs (360 mm) |
| Front tires | 235/35 ZR20 |
| Rear tires | 295/35 ZR20 |

Dimensions
| | |
| --- | --- |
| Length | 4568 mm |
| Width | 1952 mm |
| Height | 1213 mm |
| Wheelbase | 2650 mm |
| Box | 230 litres |
| Front track | 1672 mm |
| Rear track | 1606 mm |
| Weight | 1370 kg |
| Réservoir | 78 litres |
| Cx | 0.34 |
| SCx | 0.68 m² |
Performance
| | |
| --- | --- |
| Maximum speed | 331 km/h |
| 0-100 km/h | 3 seconds |
| 0-160 km/h | 6.1 seconds |
| 0-200 km/h | 8.3 seconds |
| 0-300 km/h | 25.6 seconds |
| 400 meters Start Stopped | 10.4 seconds |
| 1000 meters Start Stopped | 18.7 seconds |
| Power to weight ratio | 2,045 kg/ch |
| Power/litre ratio | 171,707 ch/liters |
| Mixed consumption | 11.1 liters per 100 |
| CO2 emissions | 260 g/km |
#Concept Car #Gt #Super Cars #Voiture de collection