Alfa Montreal
The Alfa Romeo Montreal is a sports coupé presented at the Universal Exhibition in Montreal in 1967 and resulting from a style study by Marcello Gandini, then an employee of the workshop of the master Bertone.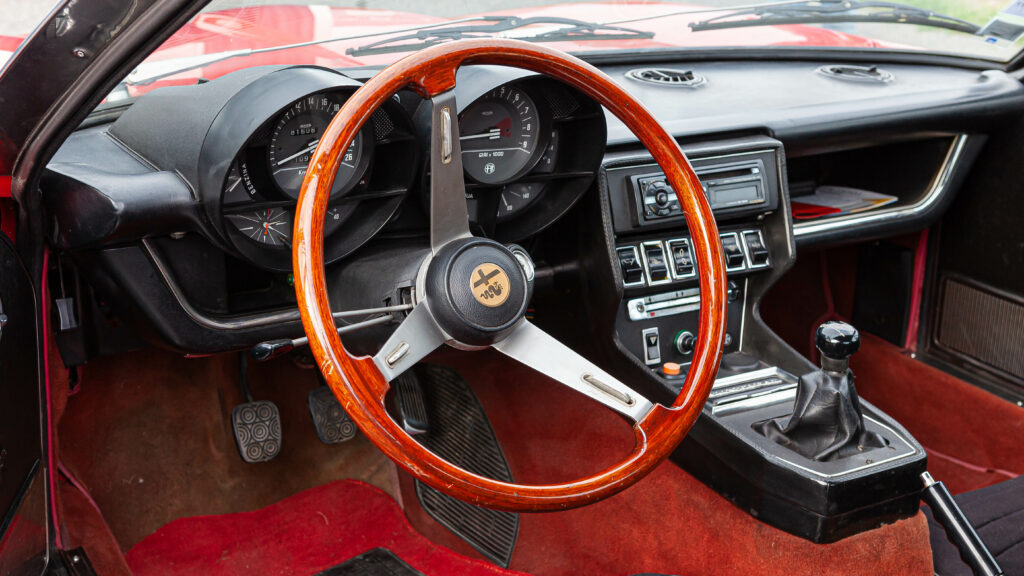 Produced from 1970 to 1977, the production version is fundamentally different from the prototypes with the use of the V8 engine. Adapting the shapes of the prototype is not possible with the engine chosen for the production version.
The development of the car before the release of the first vehicle took three years.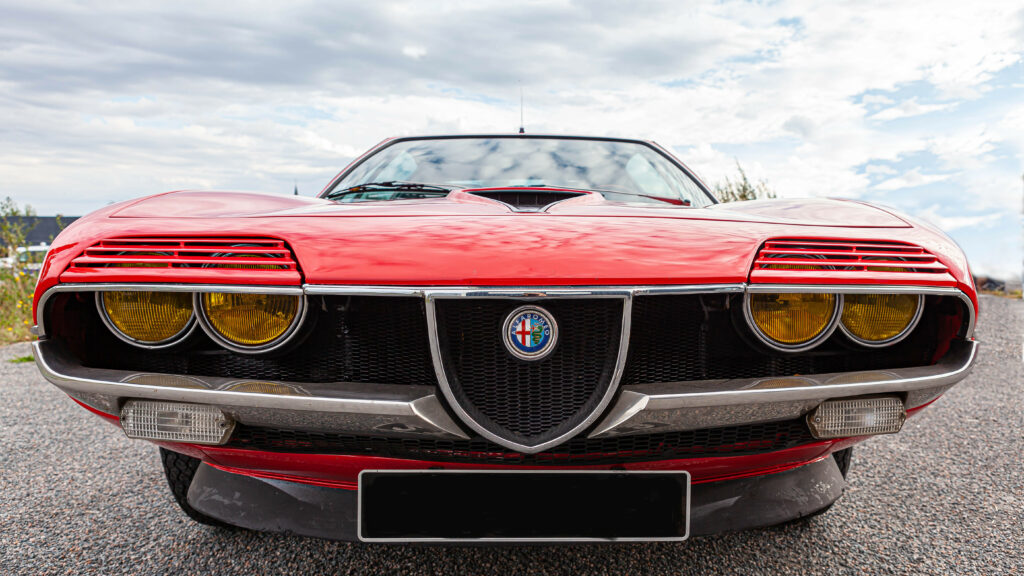 The Alfa Romeo Montreal does not have a mid-engine despite its rear air intakes, it just has its 90° V8 engine, four overhead camshafts, with a power of 200 hp, placed on the crossmember of the front chassis, giving a 60% weight distribution at the front of the Alfa Romeo.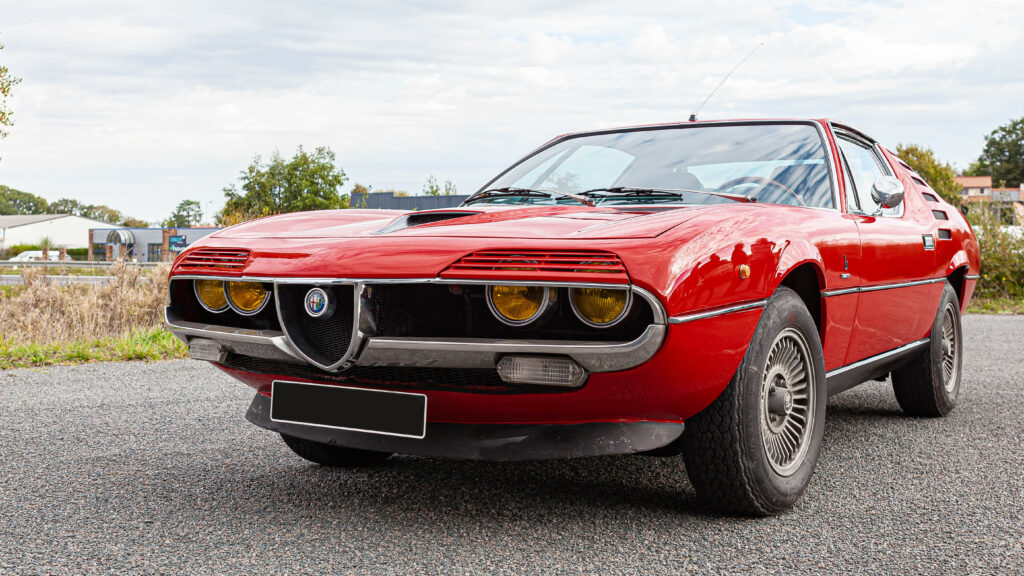 The car is fitted with a direct-to-engine 5-speed ZF gearbox and drives the rear wheels with a rigid differential with self-locking which comes from the Bertone coupé. The particularity of this gearbox was to have the gears reversed; the first gear was at the bottom left, unlike the usual Alfa Romeo boxes, the second and third gears remained in the middle at the top and bottom of the lever travel, which allowed a gear change faster. In addition, this ZF box was much more robust than the gearboxes from Alfa Romeo.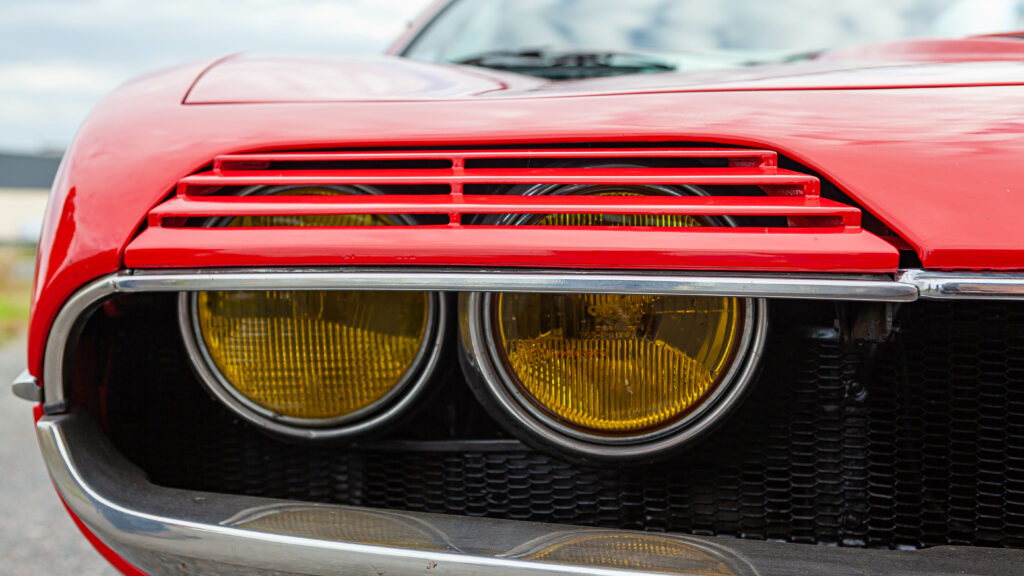 The car, weighing 1,270 kg with the tanks full, was relatively light and its performance was above average for cars of the time, apart from brands like Ferrari and Lamborghini.
The Alfa Romeo Montreal would have been produced in 3,925 units from 1971 to 1977 in right and left-hand drive, more majority, with 3,737 units in left-hand drive.
Technical sheet Alfa Romeo Montreal
Engine
| | |
| --- | --- |
| Type | V8 à 90° |
| Disposal | Front longitudinal |
| Valves | 16 valves |
| Cylinder | 2593 cm³ |
| Bore x stroke | 80 x 64.5 mm |
| Compression | 9.0:1 |
| Distribution | 2 double overhead camshafts |
| Feed | SPICA indirect injection |
| Power | 203 ch à 6500 tr/min |
| Couple | 240 Nm à 4750 tr/min |
Transmission
| | |
| --- | --- |
| Type | Propulsion |
| Gearbox | 5-speed manual |
Chassis and wheels
| | |
| --- | --- |
| Direction | Billes |
| Front suspension | Independent wheels and coil springs |
| Rear suspension | Coil springs and shock absorbers |
| Front brakes | Ventilated discs |
| Rear brakes | Ventilated discs |
| Front tires | 195/70 R14 |
| Rear tires | 195/70 R14 |
Dimensions
| | |
| --- | --- |
| Length | 4220 mm |
| Width | 1672 mm |
| Height | 1205 mm |
| Wheelbase | 2350 mm |
| Front track | 1370 mm |
| Rear track | 1340 mm |
| Weight | 1270 kg |
| Réservoir | 63 litres |
Performance
| | |
| --- | --- |
| Maximum speed | 229 km/h |
| 0-100 km/h | 7.2 seconds |
| 0-160 km/h | 21.7 seconds |
| 400 meters Start Stopped | 16 seconds |
| 1000 meters Start Stopped | 28.2 seconds |
| Power to weight ratio | 6,256 kg/ch |
| Power/litre ratio | 78,288 ch/litre |
| Mixed consumption | 13.7 litres au 100 |
#Concept Car   #Gt   #Super Cars   #Voiture de collection