The DEFENDER range is enriched with new offers
cars of the legend for car enthusiasts, concept cars, super cars, collections and much more on cars of the legend.
The DEFENDER range is enriched with new offers
The DEFENDER range is enriched with new offers including the luxurious DEFENDER 130 OUTBOUND
Achieve the impossible: the Defender range is enriched with new offers, offering ever more choice to Defender fans

A luxury explorer: the new Defender 130 Outbound is the ideal companion for extreme adventures, with its five seats and enough space on board to meet all requirements

Improved engines: the Defender 130 is available, for the first time, with a 500 horsepower supercharged V8 engine that combines the comfort and refinement of eight-seat travel with the powerful performance of the V8; 0 to 100 km/h in just 5.7 seconds1

County Exterior Pack: a new design pack, inspired by the heritage of the Defender, offers the most ardent Defender 1102 fans even more customization possibilities

Now available: the Defender 130 Outbound and V8 can be ordered now, like the other models in the Defender collection:
https://www.landrover.fr/vehicles/defender/index.html
The new Defender 130 Outbound and 130 V8 of 500 horsepower join the Defender range. The new County Exterior Pack, inspired by the heritage of the Defender, is available for the Defender 110(2). These new features broaden the choice for Defender enthusiasts, while preserving its usual off-road capabilities, combined with even greater comfort.
Mark Cameron, Managing Director Defender: "The Defender 130 Outbound brings a particularly desirable new addition to the Defender family, for our more adventurous customers who like to stray off the beaten track, or even explore, and who need a larger cargo space with a five-seater configuration. Its specific design enhancements and spacious interior offer a compelling blend of performance and practicality. The 4 x 4 family therefore caters for all tastes, with the introduction of the V8 engine on the Defender 130, while the new County Exterior Pack celebrates the Defender's roots with a modernization of its legendary design. "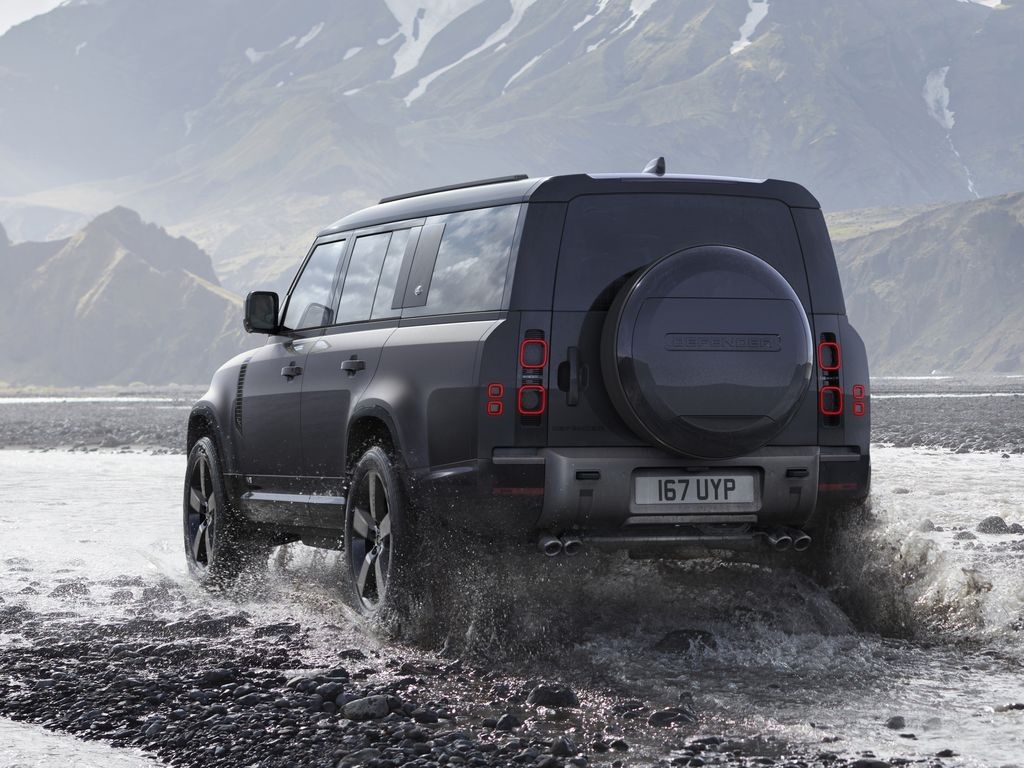 Defender 130 Outbound: the ultimate luxury explorer
The new Defender 130 Outbound unites the extremes with its unprecedented combination of luxurious interior space and off-road capabilities. Available exclusively as a five-seater, it offers even greater exploration potential and allows those with an active lifestyle to carry everything they need for escapades and raids.
The new Defender 130 Outbound is designed for those enthusiasts who know that you can always go further. It offers the ability to explore any terrain in superior comfort, with a cabin designed to accommodate everything adventurers may need.
The ultimate expression of the Defender's breadth of talent, the 130 Outbound is available exclusively as a five-seater with rear cargo space of up to 2,516 liters(3) (1,329 liters(3) with the second row of seats in place) , enough to make every adventure easy for explorers who want maximum versatility and practicality. Its almost flat floor (with
1,267 meters in length behind the 2nd row) can easily accommodate everything from wetsuits and sports bags to the necessary camping or climbing gear.
With specific enhancements to its exterior design, the Defender 130 Outbound stands out wherever it is. Its bumpers and grille are covered in a Shadow Atlas matte finish, while the side vents are Anthracite. To complete the design of the Outbound, it is possible to opt for 20-inch wheels in Gloss Black finish or 22-inch wheels in Shadow Atlas satin finish.
The color chart features the colors Fuji white, Santorini black, Carpathian gray, and Eiger gray, while the body color finish of the rear badge completes the exterior specifics. For those who would like superior scratch resistance off the beaten track, a satin protective film is available (4).
Inside, customers can opt for Windsor extended leather or durable Resist fabric depending on their preferred feel and what will best suit their lifestyle. In both cases, the finish is Ebony, with a Morzine Ebony headliner, Robustec veneer and the interior transverse, signature of the Defender, adopts a Light gray Powder Coat finish.
From the start to the end of each journey, practical details protect the cabin. Thus, a floor mat, made of durable rubber, can protect the bumper when loading or unloading bulky or heavy equipment, bicycles, suitcases or others. Additional storage areas safely conceal small items, while additional hooks and a new luggage restraint net help secure a variety of outdoor gear – large or small – during travel, and keep them ready to go. be used upon arrival.
Unstoppable 4×4 efficiency is ensured by the Defender's proven Intelligent All-Wheel Drive and Terrain Response 2® system, while electronic air suspension and its Adaptive Dynamics systems are fitted as standard. Advanced off-road driving technologies ensure easy and reassuring progress on any terrain, with electronic air suspension allowing up to 430mm of travel and up to 900mm when crossing fords.
The Defender 130 Outbound's towing capacity is up to 3000 kg (5), meaning everything can be towed easily, whether boats, caravans or other trailers. The coupling maneuver is simplified by the air suspension, switches housed inside the tailgate allowing the rear of the vehicle to be raised or lowered.
The Defender 130 Outbound is available with P400 petrol and D300 Diesel Ingenium engines. Both use Mild Hybrid Electric Vehicle (MHEV) mild hybrid technology for optimal performance and fuel economy.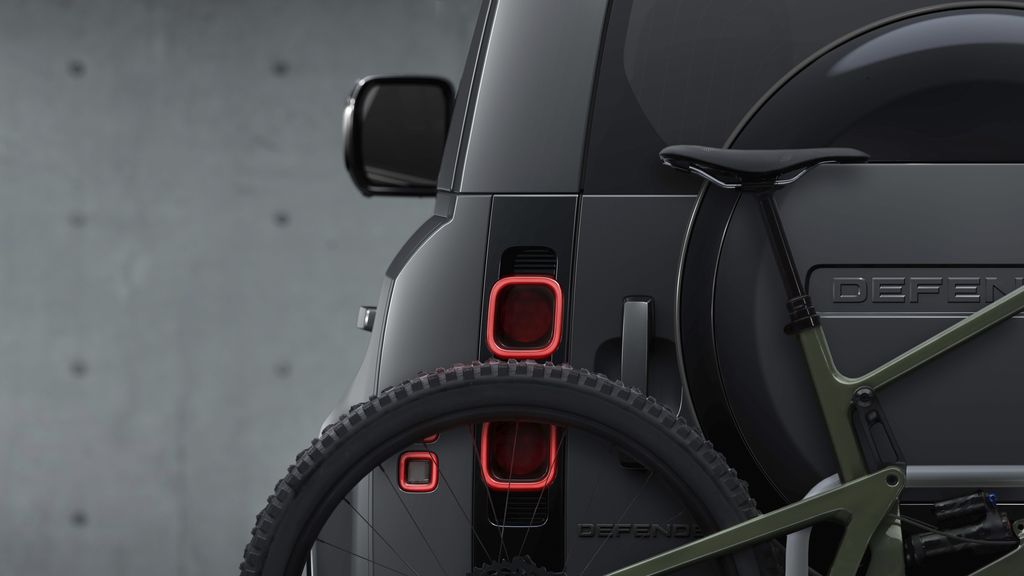 Defender 130 V8
The Defender 130 range also expands with the adoption of the 5.0-litre supercharged V8 engine, offering an exceptional combination of performance, refinement and versatility. Developing 500 horsepower and 610 Nm of torque, it propels the Defender 130 from 0 to 100 km/h in just 5.7 seconds(1). With this new feature, a choice of three engines is now available on the 8-seater version of the Defender, the six-cylinder Ingenium P400 and D300 also being offered.
On the outside, the Defender 130 V8 is distinguished by a stealthy aesthetic style. Available exclusively in Carpathian gray or Santorini Black, it displays a quadruple exhaust outlet – exclusive to this engine – a contrasting black panoramic and sliding roof, the V8 exterior logo, Matrix LED headlights with light signature, dark rear lights, tinted windows and 22-inch alloy wheels with a dark gray satin finish.
On board, luxury and dynamism are ensured by the electric driver's seat with memory, adjustable in 14 axes, heated and ventilated, covered in Windsor leather, Dinamica® suede or Robustec fabric. In addition, we find the heated suede steering wheel, an Ebony Morzine headliner and a Satin Black crossing console. The Defender 130 V8 is also equipped with four-zone climate control, heated seats in three rows, air conditioning in the first two, a Meridian Hi-Fi system, head-up display, interactive driver screen and of the advanced "Plus" cabin air purification system.
The award-winning Pivi Pro multimedia system is displayed on an 11.4-inch glass touchscreen and, with Software Over The Air (SOTA) remote updating, it is constantly at the forefront of latest developments. Wireless Apple CarPlay™(6) and wireless Android Auto® are standard. Pivi Pro also has what3words addressing technology which makes it possible to find a precise destination even in the most remote places. A fast, wireless charging point for phones and other devices is also available, while Alexa AI voice control (7) provides intuitive control of key vehicle functions.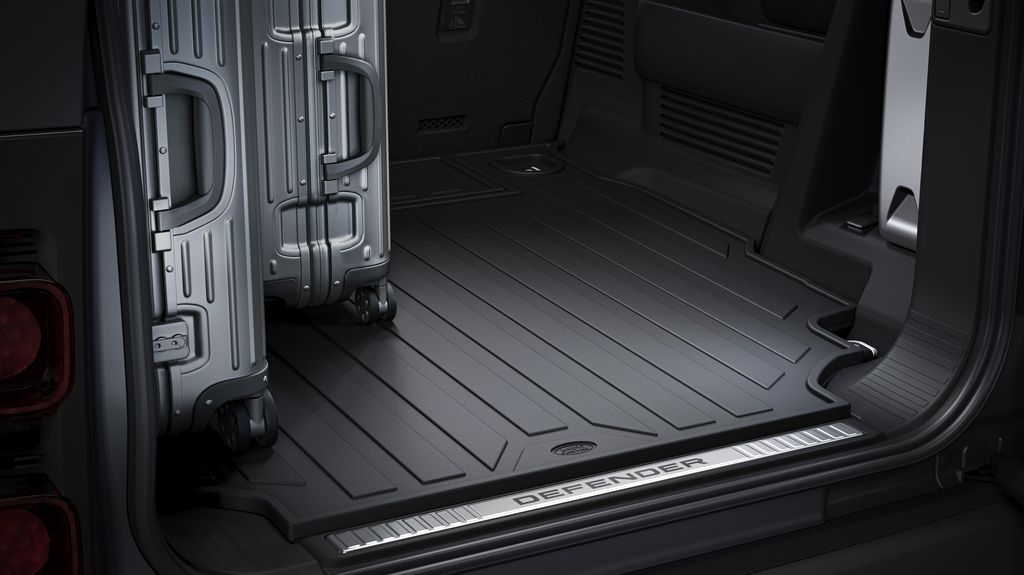 The County exterior pack for the Defender 110(2)
Those looking for further customization of their Defender 110(2) can opt for the new County Exterior Pack. Inspired by the original Defender County, it features unique exterior elements, a modern interpretation that celebrates the history of the legendary 4×4.
The County Exterior Pack is available on the Defender 110(2) in the S and SE versions. The County graphics that hit the doors and body are the most visible addition, but the sill lighting also welcomes driver and passengers with a specific County graphic. Stunning 20-inch alloy wheels are available in two finishes, including one in Gloss White which matches the aesthetic signature of the Exterior Pack.
The possible color combinations are:
Fuji White bodywork with contrasting Tasman Blue roof and tailgate, Tasman Blue gradient County graphic and County sill plate

Santorini Black bodywork with contrasting Tasman Blue roof and tailgate, Tasman Blue gradient County graphic and County sill plate

Tasman Blue bodywork with contrasting white roof and tailgate, County graphic in Fuji white gradient and County sill plate

For the interior, a range of colors and materials are available, including Resist seats, Grained Leather and Windsor Leather, all in Ebony finish, while an Acorn and Lunar interior is also available with Fuiji bodies white and Santorini black.

Interior details include Robustec veneer, with the center console available to order in light gray or white, bringing a reminder of the County Exterior Pack into the cabin.

Additional Improvements
A practical boot floor(8) comes as standard on all eight-seater Defender 90 and Defender 130 models. This new feature, which includes internal storage space, provides a virtually flat loading sill and ensures that no space is wasted. This new accessory is also available from dealers for the eight-seater Defender 90 and Defender 130 already delivered (8).
For the Defender 90, quick access to the second row of seats has been improved with a new handle, a front passenger seat that quickly folds and slides. The second row of seats folds in fractions 40 – 20 – 40 and receives central armrests.
The Defender 130 Outbound, Defender 130 V8 and Defender 110 with County Exterior Pack(2) are available to order now.
________
1 When equipped with 22" wheels 2 On the Chinese market, the County Pack is only available on the Defender 90 3 Maximum luggage volume, calculated with fluid 4 Not available in Fuji White 5 3719 kilos depending on NAS standards 6 Apple CarPlay is a registered trademark of Apple Inc. Apple Inc's terms of service may apply. Android Auto is a trademark of Google LLC. Services offered by Apple CarPlay depend on feature availability by country, please see https://www.apple.com/uk/ios/feature-availability/#apple-carplay for more information. The services offered by Android Auto depend on feature availability by country, please visit https://www.android.com/intl/en_uk/auto/ for more information 7 On-board equipment must only be used by the driver only when it is safe to do so. The driver must ensure that he is always in control of his vehicle. Amazon Alexa voice AI is only available in select markets. Amazon, Alexa and all related logos and trademarks are registered by Amazon.com, Inc. or its affiliates. Some Alexa features are conditional on ownership of various home devices. Using Amazon Alexa requires an Amazon account. 8 Available later in 2023