New Fiat Topolino
cars of the legend for car enthusiasts, concept cars, super cars, collections and much more on cars of the legend.
New Fiat Topolino : electrifying the city with a unique scent of Dolce Vita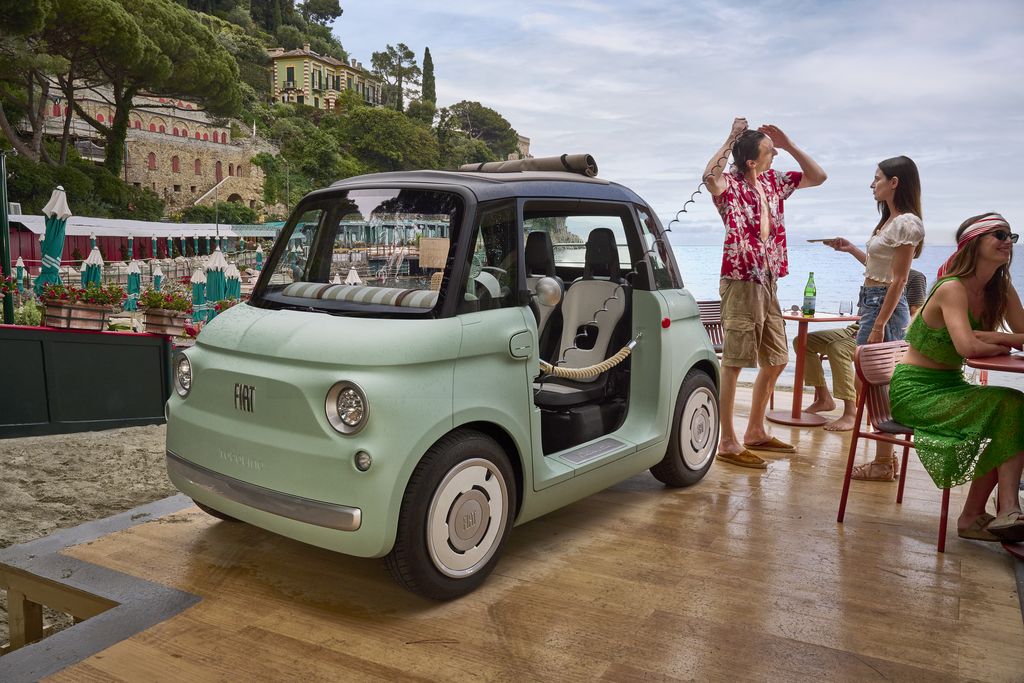 New Fiat Topolino: electrifying the city with a unique scent of Dolce Vita
New Fiat Topolino: the simplest way to enrich urban mobility with a touch of Dolce Vita, joy and color,

The new Fiat Topolino has the fundamental advantages of sustainable and unconstrained mobility in the city: a reduced carbon footprint, a limited footprint and minimal noise impact,

A new vehicle to take full advantage of electric mobility, intended for everyone, even the youngest. : Topolino can be driven from 14 years old!

The range is available in two body styles, the Topolino Sedan and the Topolino Cabriolet Dolcevita. A single color, a single wheel design, a single interior, and three customizations possible when ordering,

A digital purchasing experience that's simpler than ever: just three clicks to configure and purchase the vehicle.
FIAT continues its mission: to develop sustainable mobility for cities and transform them into playgrounds where driving becomes a simple, sustainable experience accessible to all. This goal becomes reality thanks to the new Fiat Topolino, a fun and cool new electric car, intended for everyone. For families and even the youngest, since the minimum age required to drive it in France is 14 years old. An eclectic electric vehicle that adapts to all occasions, all places, and offers numerous possibilities of use.
Topolino is a response adapted to local urban mobility, capable of accessing any location thanks to its electric propulsion. A tribute to the history of the brand, to its capacity for innovation, always with kindness and freshness, it perfectly embodies the style of the New Dolce Vita and authentic Italian beauty.
Equipped with unique accessories – such as the hand shower, which makes it an ideal car for the beach, a new design and accessible to driving from 14 years old, the New Fiat Topolino is aimed at a new target audience.
The New Fiat Topolino thus perfectly expresses FIAT's commitment to sustainability: its electric propulsion makes it possible to reduce the carbon footprint and reduce noise pollution, while respecting the viability of urban centers. Its extremely small dimensions do not disrupt traffic, and on the contrary make the Topolino the urban vehicle par excellence.
Topolino, the FIAT way
FIAT's mission is to offer revolutionary urban mobility objects, adding a touch of freshness, as is the case with the New Topolino. With it, the brand is making a significant commitment to sustainable urban mobility, while taking an important step towards complete and uninhibited electrification. Fiat Topolino will restore the taste for automobiles among young people, by attracting a generation Z very attentive to sustainable development issues, very sensitive and eager to have a mobility solution that respects the environment and the individual. Topolino is also the dream on four wheels for lovers of the Riviera, the ideal vehicle for the summer season and seaside roads. A dual identity, ideal for small seaside villages as well as for city centers. bustling cities.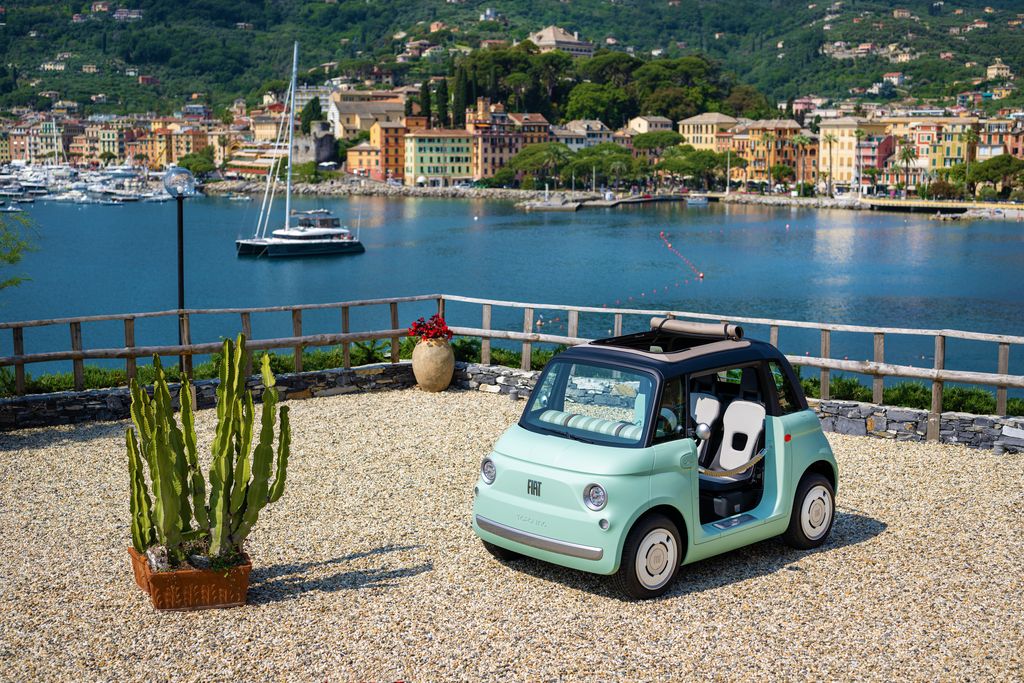 Italian beauty and freedom made simple
The Fiat Topolino is the little sister of the 500. It borrows its name and design from the original 500 from 1936, affectionately nicknamed "Topolino" by the Italians, who immediately identified it, due to its small round headlights on its black front wings, with the ears of a very famous mouse, heroine of cartoons, and named "Topolino" in Italy. With Topolino, FIAT is expanding its range and consolidating its leadership in the field of urban and sustainable mobility. Its style, like that of its predecessor, is guided by a powerful simplicity, a design that revolves around the idea that "less is more" and that intends to make simplicity the best ally of its beauty.
Freedom is the key word. The New Topolino is intended to be shared with loved ones, driven anywhere and in all weather, parked with ease. Compared to a scooter, it represents an infinite range of possibilities. It can be driven safely despite unpredictable weather, it is more robust in its construction, and it allows you to share your journeys with friends and family.
The range is based around two distinct bodies, one closed and the other open, both consistent in their structural characteristics: one color, Verde Vita, a unique style of rims and the same aesthetic approach for the interior. Thanks to its extremely compact dimensions compared to an ordinary car (2.54 m long), its maneuverability and its maximum speed of 45 km/h, the Topolino makes you want to hit the road again without stress. Versatile, both silhouettes have excellent electrical capacity thanks to a 5.5 kWh battery offering up to 75 km of range and a full charge in less than four hours. More than enough to enjoy a day at the seaside or daily trips around town.
Great compactness, but remarkable habitability, thanks to the two offset seats and the large glass surface which considerably broadens the perception of the space as a whole. But above all thanks to storage spaces of a total of 63 liters, judiciously arranged, like the one located between the driver and the passenger, where a suitcase can be accommodated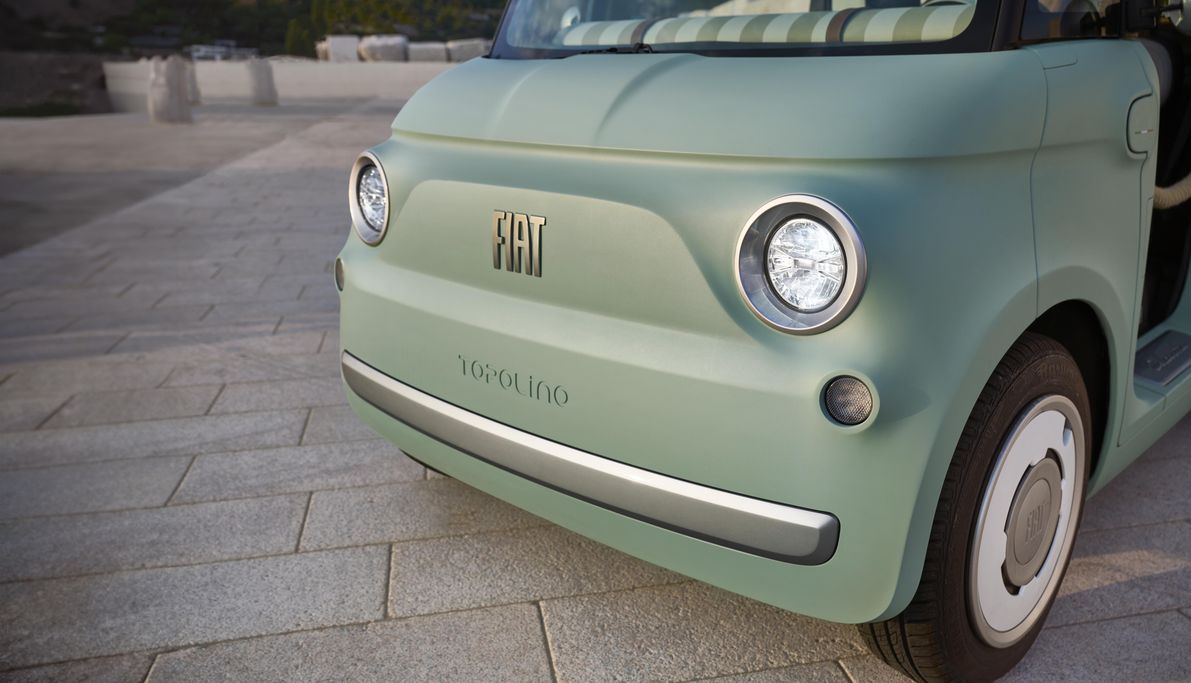 Dolce Vita customization
It is possible to personalize your Fiat Topolino Dolcevita to further accentuate its Mediterranean character. It will in fact be possible to add a hand shower, designed exclusively for days spent at the beach.
The closed Sedan version can be personalized using wood effect stickers, positioned on the doors, while – for an additional touch of Dolce Vita, the eponymous convertible version can receive stickers on the roof whose stripes evoke tents beach of our coastlines.
Finally, to meet different needs, it will be possible to obtain a list of five optional accessories on the brand's website: a spacious travel bag, a USB fan, a Bluetooth speaker, an insulated bottle for hot drinks and cold, and two seat covers which transform, if necessary, into beach towels.
A simple and fun digital journey in just 3 clicks
In order to offer an even more simplified and intuitive customer experience, the purchasing process for the New Fiat Topolino is incredibly simple: just 3 clicks will be necessary to configure and purchase the vehicle of your choice. A simplified purchasing journey which also allows buyers to track and control the status of their order.
To mark the launch of the New Fiat Topolino on July 4, an exclusive initiative, called "Be the first", will be set up on the brand's website, for those who want to be the first to get behind the wheel of their new electric quadricycle.
The New Topolino fits perfectly with FIAT's mission, to be a leader in urban mobility, sustainable and accessible to all. It will also be possible to acquire it for a monthly rent adapted to the needs and means of its target audience.
An affordable rent, designed to promote electric mobility and comparable to the budget usually spent on a subscription to a pay-per-view television channel or a monthly package for a public transport ticket.