MY AMI BUGGY new limited edition Citroën
cars of the legend for car enthusiasts, concept cars, super cars, collections and much more on cars of the legend.
MY AMI BUGGY : even more character to experience the outdoors differently!
New limited edition Citroën MY AMI BUGGY : even more character to experience the outdoors in a different way!
Following the dazzling success in 2022 of the online sale in France of the 50 "My Ami Buggy Ultra Limited Edition", Citroën is offering a new special series of 1000 units which will be available in 10 countries: France including the French Overseas Territories, Italy, Spain , Belgium, Greece, Portugal, United Kingdom, Luxembourg, Morocco and Turkey.

Citroën "My Ami Buggy II" is still as intrepid and friendly, without doors or roof, with its Khaki body color punctuated with acid yellow and its array of decorative elements which give it its unique adventurer character, like its flares. wing, its front and rear shields or its very specific golden rims.

This new edition is equipped with exclusive additional accessories such as transparent door covers protecting its occupants from bad weather or the removable zipped bag positioned in the center of the steering wheel for storing small everyday items.

The sale will take place on the website dedicated to Citroën Ami https://www.citroen.fr/ami, on June 20 at 10 a.m. The record to beat: 2 minutes 53 seconds. This is the time it took the fastest buyer to complete the entire purchasing journey during the first sale. The first customers will be delivered in September.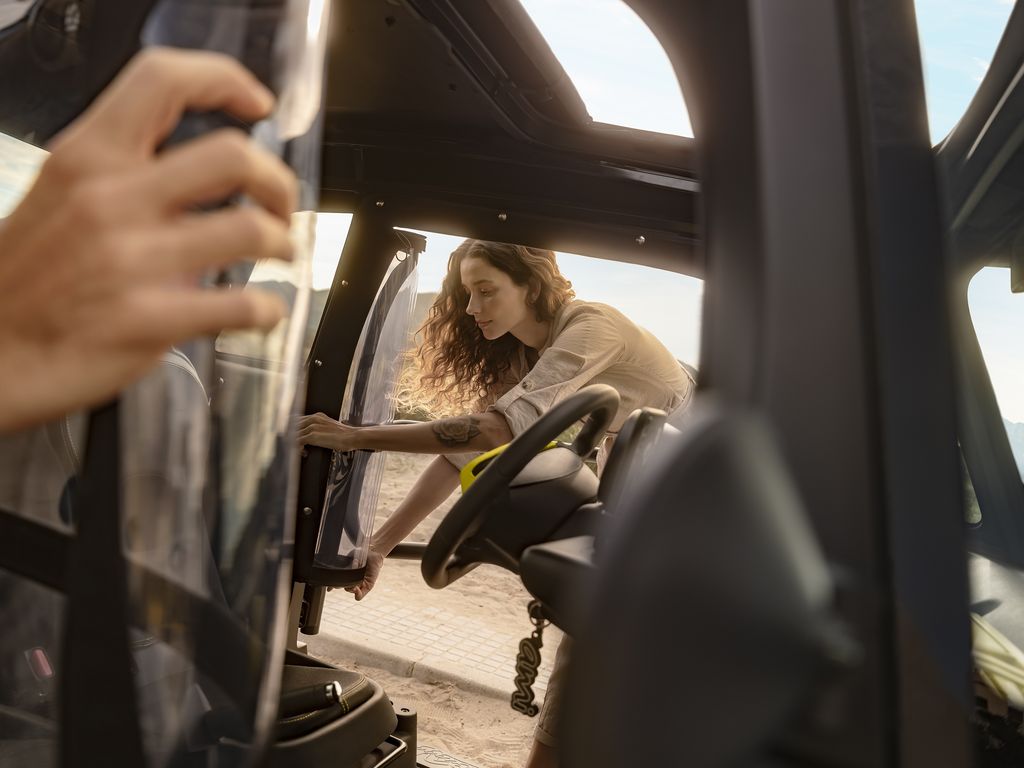 Citroën announces a new version of "My Ami Buggy" produced in 1000 units, with enhanced equipment and available in 9 countries. Only available online, ordering for "My Ami Buggy" will be possible from June 20, 2023 at 10:00 a.m.
ALL THE CHARM OF A BARROUDEUR
Citroën "My Ami Buggy" asserts its adventurous spirit by retaining its mass-tinted Khaki exterior color and its black protective elements such as its bumper reinforcements, its faceplates, its light trims, its fender flares, its rocker panels. and its rear spoiler which give it a robust appearance.
The personality of "My Ami Buggy" also emanates from the vitality and freshness brought by its bright yellow spots that we find on the exterior on the decorations (recesses on the plastron and directional arrows on the wheel arches) and inside (storage bins, opening straps and bag hook, stitching on seats and floor mats).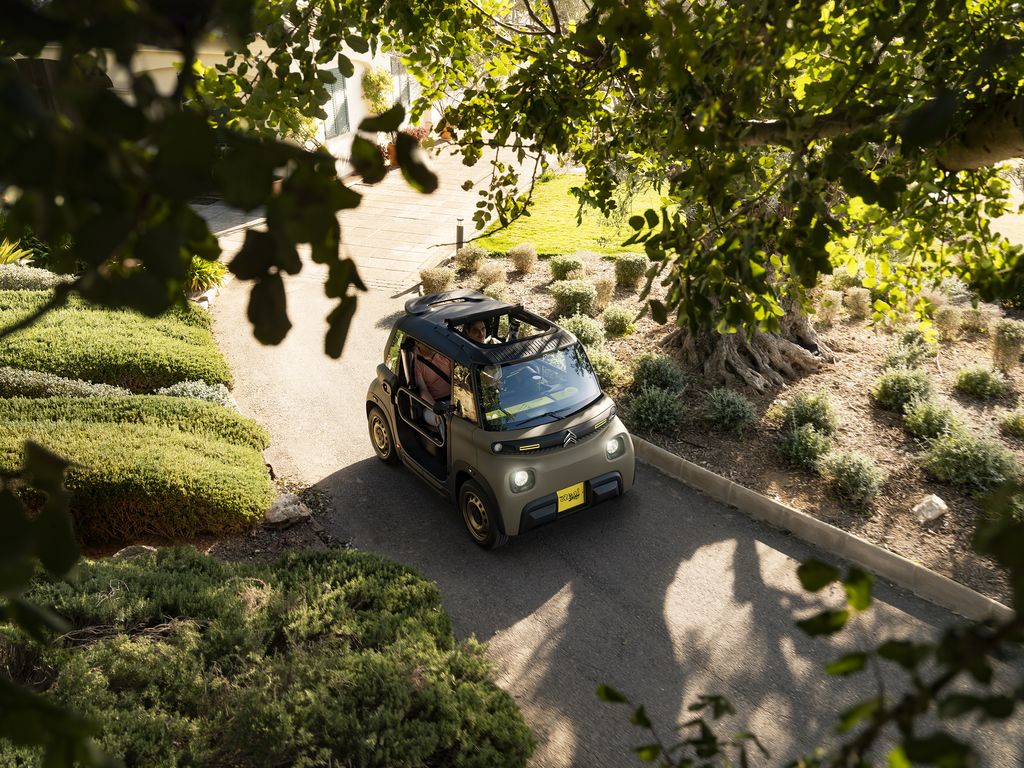 NEW EQUIPMENT THAT MAKES THIS NEW EDITION EVEN MORE SPECIAL
Citroën has gone further in the design of this new version both outside and inside.
Additional door covers that protect from the outside.
Always the same motto for this second limited series: no doors, no roof to enjoy your leisure activities as close as possible to nature and feel a pleasant feeling of freedom. However, to protect against bad weather, protective elements have been added and modified.New plastic tarpaulins equipped with zippers have been designed to protect occupants from the outside. They thus complete the roof protection to obtain an almost closed passenger compartment in the event of wind, cold or rain. For daily use, when occupants want to get a breath of fresh air, simply remove the tarpaulins, roll them up to the rear at the seat level, then position them on the door pillars using press studs. In the middle of summer, when they are not in use, they can be stored in a garage.
A new roof closing device has been created to make it easier to use. It is a black waterproof hood now closed with a zipper, therefore more practical and quicker to handle. Totally integrated into the silhouette thanks to a roof trim allowing it to be stretched as much as possible, this canvas brings a coherence of style to the whole. Thus, it is also less subject to air intakes when driving. Rollable, it attaches to the roof frame with press studs.
New door frames, roof and new gates to better integrate certain equipment and also to improve the look
The door and roof frames have been added to secure the transparent tarpaulins and the soft top so that they integrate perfectly with the bodywork for a neat finish.
At the front, the roof frame extends to form a visor which acts as a sunshade and underlines the leisure side of "My Ami Buggy".
The gate closing system is identical to that of the previous version. Only the shape has evolved towards a design reminiscent of the bottom door capsules of other versions of Ami, highlighting the connection of "My Ami Buggy" to the rest of the range.
A new handset
The instrument panel, still positioned on the steering column housing, is topped with a new arc-shaped cap, which gives it a little "retro" feel.
Additional and clever storage from the original concept
This new "My Ami Buggy" edition features an element from the tangy yellow luggage line unveiled in December 2021 based on the concept of the same name. The nomadic bag, a unique piece that is both decorative and ingenious, fits into the hollowed out shape in the center of the steering wheel. It is held in place using clip-on backpack straps which wrap and attach around the two arches. Equipped with a zipper, this additional storage space can accommodate the driver's personal effects and be carried by him when leaving the passenger compartment.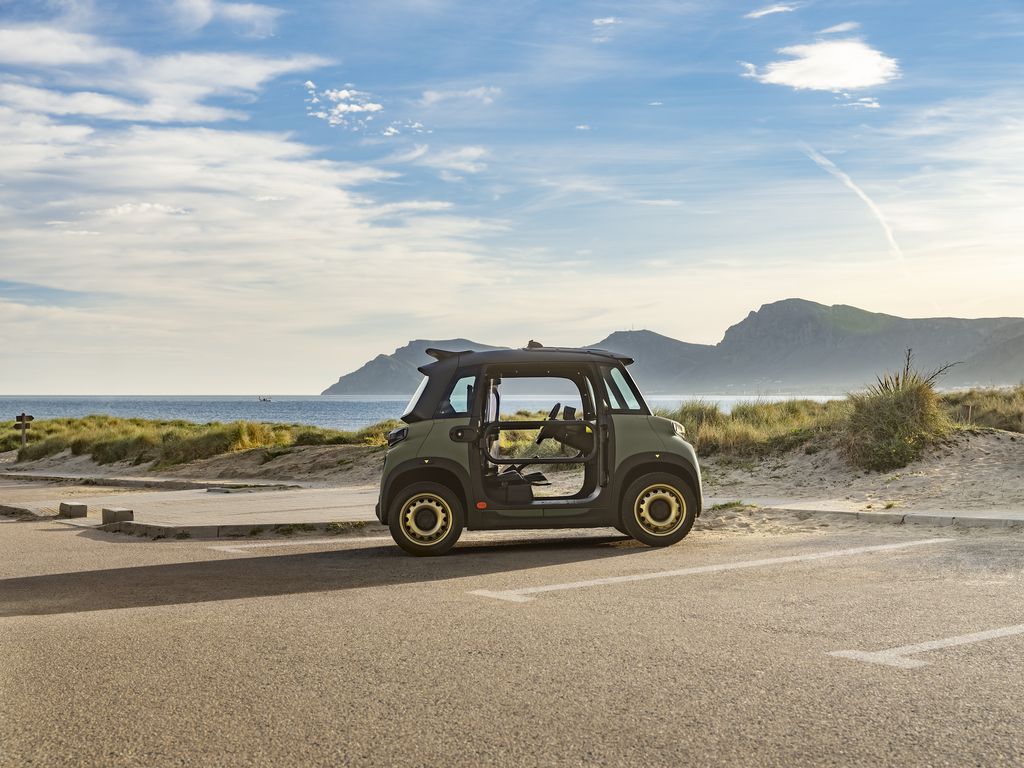 An Ami speaker and new accessories complete the equipment of this new limited edition "My Ami Buggy"
The portable, lightweight "Ultimate Ears Boom" Bluetooth speaker can be easily transported anywhere. Music lovers will appreciate the powerful and immersive 360° sound. Waterproof and robust, with a battery life of 15 hours, it will accompany the most beautiful moments in music. Inside My Ami Buggy, it slides into a specially dedicated area on the dashboard, near the steering wheel.
Future "My Ami Buggy" customers will receive products derived from the "My Ami Buggy" line including an Ice-Watch and two other accessories, a comb and a bob.
"My Ami Buggy" will be open for sale on June 20 at a price of €10,490 including tax in France.
Since its launch in April 2020, Citroën Ami has created a surprise on the micro-mobility market thanks to its atypical design. Ami is easy to handle because it is ultra-compact with its 2.41 meters in length. Electric, it recharges in 4 hours using a simple 220V socket like any household appliance. Ami was created to be accessible to as many people as possible by age – it can be driven at 14 years old as well as at 77 years old – and also by its affordable price and low cost of use. Its online purchasing process, like many everyday consumer products, its expanded distribution via non-automotive networks, such as Fnac and Darty in France, and in Portugal, MediaMarkt in Spain, contribute to making life easier for customers.
Marketed in 11 countries, Ami has already attracted more than 35,507 customers since its commercial launch in April 2020. The popularity of the small car continues to grow with its launch in January in Luxembourg, in the 2nd quarter in Switzerland, in Slovenia and in the French Overseas Territories (Réunion, Martinique and Guadeloupe) as well as an upcoming opening of orders in Denmark.