Jeep Avenger, first 100% electric Jeep
cars of the legend for car enthusiasts, concept cars, super cars, collections and much more on cars of the legend.
Jeep Avenger , first 100% electric Jeep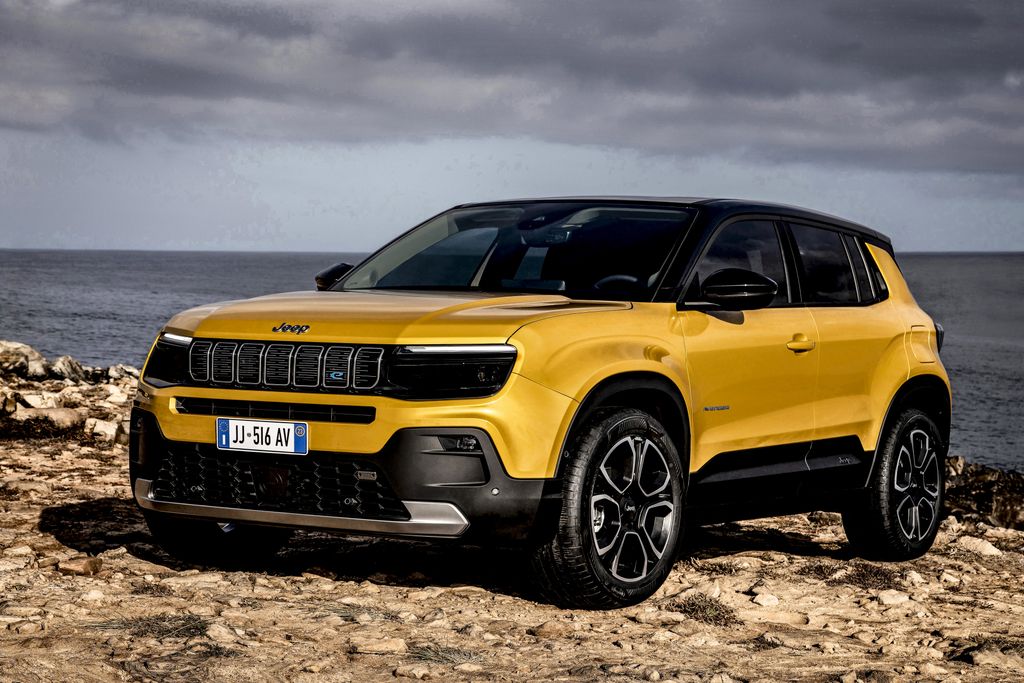 The Jeep Avenger, the first 100% electric Jeep, makes its debut on European roads.
The all-new Jeep Avenger was presented to the European press. This Jeep is the brand's first to be fully electric (BEV), and it was designed and manufactured in Europe, embodying the brand's DNA.

Despite its compact size on the outside, the Avenger is surprisingly roomy on the inside, with great flexibility and plenty of space for passengers and luggage. It is also easy to maneuver while being dynamic.
With high performance, advanced technology and optimal safety, as well as a degree of automated driving, the Jeep Avenger is the perfect vehicle for the city or the roads.
It perfectly meets the needs of European customers, combining unique capabilities, attractive style, optimal functionality and cutting-edge technology.
The new electrical system includes a single 400-volt motor, which provides a range of 400 km WLTP and up to 550 km in the city. In addition, its fast charging capacity allows you to recover the necessary energy in just a few minutes.
During the presentation of the all-new Jeep Avenger, Eric Laforge, director of the Jeep brand in Europe, expressed his satisfaction by stating that "the Avenger is the perfect choice for those looking for a compact, robust and trendy car, offering advanced technology, plenty of space, comfort and fun. Whether it's commuting, vacationing, shopping, transporting, hanging out with friends or sharing, the Avenger can do it all and go anywhere." .
The arrival of the Jeep Avenger in Europe marks the start of the Jeep brand's next phase of electrification, the "BEV wave", which will see the release of four fully electric vehicles by 2025. By the end of By 2030, European sales of the Jeep brand will be fully electric, in support of Stellantis' net carbon emissions targets.
A successful journey highlighted by customers and media recognition
The Jeep Avenger, which was introduced at the 2022 Paris Motor Show, has been widely praised by customers and industry experts. Even before the first vehicles were delivered to Europe, the all-new electric Jeep Avenger attracted media attention by being named 2023 Car of the Year and Best Family SUV in the Women's World Car of the Year awards. Year (WWCOTY) in 2023. The jurors took into account aspects such as safety, quality, price, design, ease of driving, benefits and environmental impact. The Avenger stood out for its bold design, excellent all-terrain capabilities and "commitment to the future that customers will appreciate."
Customer interest has also been a success: since orders opened for the First Edition version on December 1, 2022, followed by the entire range on January 11, 2023, 20,000 units have been sold. This success demonstrates the relevance of the Jeep Avenger in the electric vehicle market in Europe.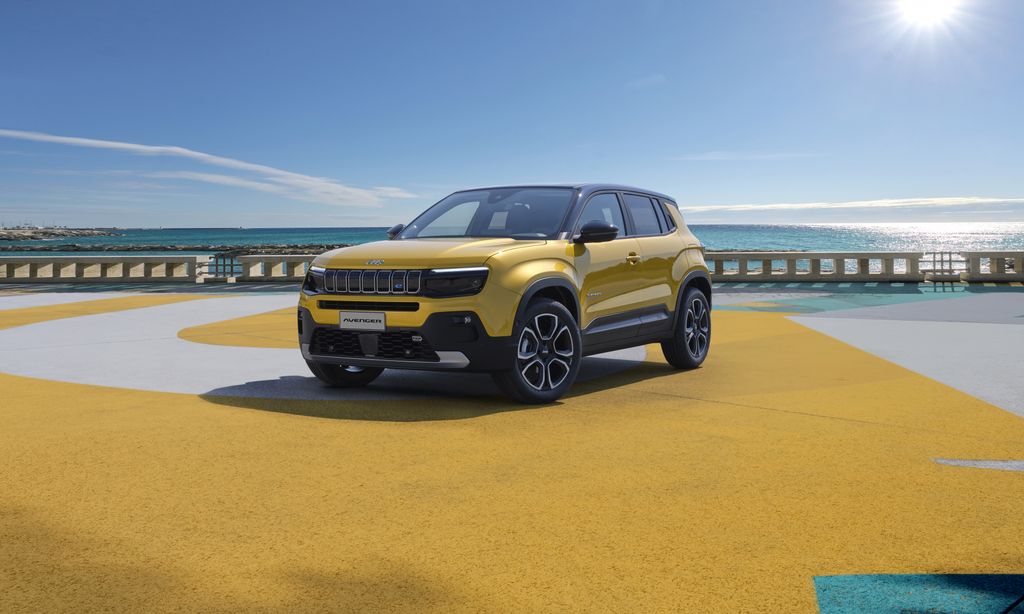 Developed to meet the specific needs of European customers
Built from the ground up as a Jeep vehicle, the Avenger is a compact SUV that possesses the brand's DNA and an exclusive combination of capability, style, features and technology. This car is produced entirely in Europe and has been specially designed to meet the needs of customers on the continent:
Functional design: it has been designed to offer 360° protection and complete freedom of movement. Avenger has been specially designed to make it the ideal travel companion for urban and all-terrain driving.

Compact dimensions: while combining the qualities and characteristics of a Jeep SUV, with a length of 4.08 meters, it is the most compact Jeep, it can comfortably accommodate five people.
Spacious and practical interior with plenty of space for everyday items. It offers 34 liters of interior storage, the equivalent of cabin luggage. The trunk is also spacious and modular with 355 liters

Durable propulsion package and fast charging: thanks to an electric range of up to 400 km in the WLTP cycle and more than 550 km in the city* and simple and fast charging, it is the ideal vehicle for a modern customer looking for a driving experience. stress-free driving. Thanks to fast direct current charging up to 100 kW at a public terminal, three minutes of charging – the time needed to have an espresso – is enough to recover 30 km, which corresponds to the average daily distance traveled by European customers.

Cutting-edge technologies: Avenger has a complete set of latest generation driving aids, including level 2 autonomous driving and offers a fully digital and connected on-board experience with a total 20.5″ digital display, composed of a 10.25″ central touch screen for the Uconnect infotainment system and a 10.25″ digital instrument cluster behind the steering wheel.

Fully connected: With Uconnect Services and the Jeep® mobile app, the customer can stay in touch with Avenger anywhere, anytime. Charging and air conditioning programming is very simple and quick thanks to the E-Control function of the application: the customer can choose the preferred time to recharge and manage the status of the vehicle. In addition, it is possible to check the battery level, find the nearest public charging station, check its availability, have the charging history under control and much more.
With Uconnect™ Services and the Jeep® mobile app, Avenger owners can stay connected with their vehicle anytime, anywhere. With the Jeep mobile app, they can locate their car, lock and unlock doors, check the battery level, schedule battery charging and activate the climate control, all from their smartphone. They can also control their car using the touchscreen or their voice assistant.
Navigation improvements include on-street parking and natural voice recognition. The first makes it easier to find parking spaces on public roads, thanks to a system that identifies the streets most available in terms of parking spaces. The system uses parking data to provide dynamic mapping that displays paid public parking spaces. Natural voice recognition is a safety feature that allows drivers to communicate with their navigation system without having to use their smartphone and thus avoid the risk of accidents. This functionality has been improved to ensure greater efficiency and understanding of the actions requested by drivers.
Connected navigation also offers the advantage of always knowing where to go, even without an internet connection. It allows you to navigate through tunnels or parking lots without losing connection and the map is updated weekly without owners needing to perform additional actions. In addition to these convenience features, the Avenger also has premium features such as the hands-free power tailgate, power adjustable leather driver's seat with massage function, multi-color ambient lighting and panoramic sunroof. These elements add a touch of comfort and sophistication to the car. The hands-free liftgate is a rare feature in this class of car and is standard on the highest-end trims, Altitude and Summit.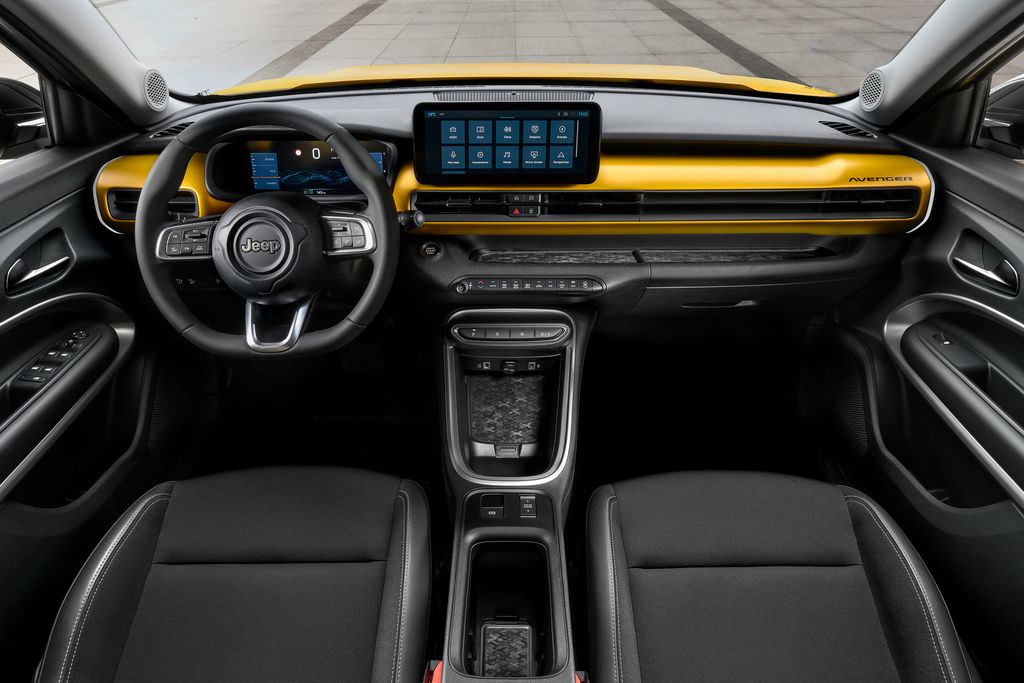 Peak capacity
As a pure expression of "focused freedom," the Avenger delivers Jeep-like performance in a compact package to ensure peace of mind in all weather conditions. This agile, responsive and pleasant-to-drive car stands out for its silence and offers dynamic performance thanks to its instant torque.
The new Avenger is the first front-wheel drive Jeep equipped as standard with Selec-Terrain® and Hill Descent Control, which, combined with 200 mm of ground clearance, a 20-degree approach angle and a leak of 32 degrees, make it a vehicle with unexpected all-road capabilities in the segment. These features guarantee maximum protection even in the city, for example when climbing a steep parking ramp.
To improve its angles, the Avenger adopts the new e-CMP2 modular electric platform, which has been extensively customized with specific settings to deliver best-in-class capabilities. No less than 60% of its components are entirely dedicated to Jeep. The front and rear overhangs have been reduced to a minimum from this platform, which has made it possible to design completely new protective bodies, which are 30 mm shorter and offer the same performance in terms of absorption. 'energy.
The vehicle was raised to maximize ground clearance, with the lowest point being the engine shield. Also worth noting is the Avenger's solid, flat underbody, which is designed to protect the battery and motor from damage while improving aerodynamic efficiency.
The Avenger perfectly embodies Jeep's "double soul" and is as efficient on the road as it is off-road. Thanks to its compact size and agility, it offers a turning radius of just 10.5 meters, which is ideal in the alleys of a historic city center as well as on winding off-road paths.
In addition, the Avenger offers exceptional ride comfort combined with extraordinary handling. For example, during the development of the suspension system, the damping force was increased by 20%. In doing so, we reduced vertical body acceleration by 20%, body roll by 12% and pitch acceleration by 18% to ensure that the Avenger is still very comfortable – in off-road use, but also filtering out bumps on ordinary roads.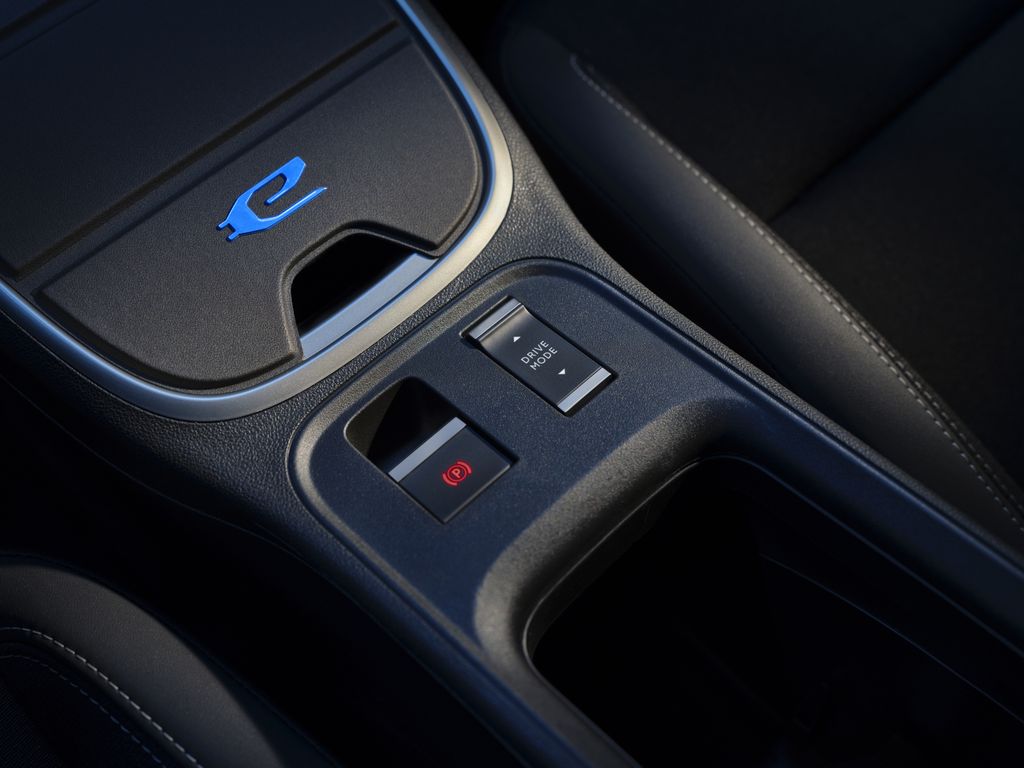 Brand new electric motor/battery assembly
The Avenger's energy consumption according to the WLTP cycle is the best in its class, showing a consumption of 15.4 kWh per 100 km. This efficiency is due to the lightness of the vehicle, which weighs only 1,500 kilograms, and the efficiency of its compact electrical assembly.
Every element of the Avenger has been designed to maximize its performance and efficiency, starting with the lightweight and efficient eCMP2 electric platform, which has helped optimize the range range.
The new electric motor improved the range by 5%, the new battery by 12%, and a further 5% improvement was achieved through aerodynamics, gear ratio and tires. The standard heat pump also increases autonomy by 10% in extreme heat and cold conditions.
The M3 power unit adopted on the Avenger is a second-generation, high-efficiency 400-volt electric motor, developed by eMotors, the 50/50 joint venture of STELLANTIS with NIDEC. It provides 115 kW corresponding to 156 HP and 260 Nm of maximum torque.
The battery is a key element that allows high autonomy. The new Avenger battery, produced at the Tychy factory, has a capacity of 54 kWh and offers maximum energy density and an excellent ratio between nominal and usable energy. It consists of 17 modules and 102 cells based on NMC 811 lithium-ion. The battery system is very compact and is located under the front and rear seats and under the central tunnel, with double crash protection.
The charging system includes a standard on-board charger that delivers 100 kW of direct current and 11 kW of alternating current. High power and torque as well as specific powertrain calibration allow the Avenger to deliver uncompromising driving pleasure on and off-road on a compact platform.
Finally, aerodynamics are a key factor in the efficiency and autonomy of the Avenger, which has a frontal area of only 2.25 square meters and a drag coefficient of 0.33, placing it among the best cars in its class in terms of aerodynamic response.
A simple and lightweight range to order
The Jeep Avenger is the brand's first electric vehicle in Europe, offering a combination of capability, style, functionality and technology to meet the needs of the modern customer. To provide a simple and intuitive customer experience, the range consists of four trims and offers a choice of seven body colors, with up to five packs to personalize the Avenger to specific customer needs. The goal is to reduce the level of complexity in the choices offered.
All versions of Avenger are well equipped, starting with the entry-level:
Avenger – The Jeep Avenger in its purest form. The model includes 16-inch black steel wheels and LED headlights. Equipped with the latest safety and capability technologies, this version features cruise control and lane keeping assist, and comes standard with the 10.25" Uconnect system with Apple CarPlay and wireless Android Auto and a 7″ digital instrument cluster. In addition, this version has automatic air conditioning, hill descent control, Selec-Terrain (6 driving modes) and connected services.

Longitude – This version has additional styling elements such as 16″ alloy wheels or body-colored door handles. The Longitude version also offers reversing sensors and heated mirrors.

Altitude – A version that combines superior elegance and comfort and offers 17″ alloy wheels, silver gray skid skids and fabric/TEP seats matching the gray painted dashboard insert. The combined 10.25″ digital instrumentation, a hands-free power tailgate and the keyless entry system come standard.

Summit – The top-of-the-line Jeep Avenger features 18″ alloy wheels, full LED headlights and taillights. In addition, the cabin offers unparalleled style and comfort thanks to its multi-color ambient lighting, its yellow edge plate and its wireless charger for smartphones. The Summit version offers cutting-edge technology with level 2 autonomous driving, 360° parking sensors and a 180° reversing camera with a top view similar to that of a drone.
The Jeep Avenger is available in seven colors inspired by adventure, freedom and nature. It offers three pastel colors (Snow, Volcano and Ruby) and four metallic colors (Sun, Lake, Granite and Stone), as well as a two-tone livery with a Volcano roof exclusively for the Summit version.
Finally, for the Longitude, Altitude and Summit versions, several packs are available, which allows Avenger to be personalized. A simple and modular offer built as follows:
– Tech Style Pack (Longitude)
– Nav Comfort Pack (Longitude and Altitude)
– Winter Pack (Longitude and Altitude)
– Driving Assistance Pack (Altitude)
– Full LED Style Pack (Altitude)
– Navigation Pack (Summit)
The new Jeep Avenger is available from €199 per month in France, thanks to various government incentives such as the ecological bonus for electric vehicles, the conversion bonus and other regional tax incentives.